Photo with 17 notes
Toph, Metalbender
by Me
Sketched in Manga Studio
Colored in Photoshop
Photo with 3 notes
Asuka, by me
a quick sketch done with Manga Studio.
Photo with 2 notes
Katara, by me
Sketched in pencil
Scanned and painted in Photoshop CS
Photo with 6 notes
Darko, by me
Sketched with Ipad Sketchbook Pro
Stenciled and Texted with Photoshop
Photo with 1 note
Anakin, by me
Sketched and painted in Photoshop CS
I cheered for Kathryn Bigelow in 2009 and I still do. Zero Dark Thirty is a film that pulses unconventionality, elusiveness, hard paced sequences, and does not leave out the subtleness needed to make it feel real.
Mark Boal's intelligent writing contains dialogue that works the brain and the suspense.
It's a cloak and daggers story that spans a decade of terror and secrecy.
-fonzcorp
Post with 1 note
Story; its what drives the game forward and the only way to play. Although the main character, Lee, is who you control; in actuality you control the story more so. Decision upon decision, through good action or the lack of it, the story will progress with results based on what you decide.
This is where character comes into major, major play. From the very beginning you really don't decide for yourself, nor Lee, but for the life of an 8 year old girl he finds and takes upon himself to protect. This is the key thing. You may or not begin to notice as you play, that from then on, every choice you make is for Lee and Clementine's relationship. The bond they develop becomes a great deal to you, the player..and it becomes the only hope Lee and Clementine can hold onto, together…in the f*cked up, shitty mess their world has become. This is where the game shines gloriously and gruesomely.
Indeed, its a great story captured with much character and theme. Its placed right in the middle of a survival-drama setting that throws wave after wave of disastrous situations in which you must make crucial decisions, sometimes with so little time, it feels like real panic and instinct maybe the only thing you can trust to make those decisions. Decisions and consequences. Safety or sacrifice? Trust or betrayal? The bad decisions or the 'not-so' bad ones?
All of this is round up into the 5 Episodes of The Walking Dead series developed by Telltale Games and it truly does leave you pondering, "Was that the wrong choice, or did i make the right choice in the eyes of my companions, or more so, in the eyes of this little girl?" Those moments of internal struggle are what makes the game surpass the screen and the controls. In those moments, you literally question yourself and very few games burden you with such an obstacle. You may get to the point where you no longer want to make anymore choices because you may feel deep down that whatever choice you make; it will still lead to even the slightest bit of heartache. It's that good, narratively.
The game isn't filled with time killing extras, or environments that lead you away from what must be done. The little "puzzles" you do have to solve, do not hinder you much either. Its a 'point and click adventure' with more story th
an 'game'. Because of this, its perfect for story lovers to play through, especially 'non-gamer' fans of The Walking Dead series, even if the game is its own story within the series. It really is one of those games you can actually enjoy just by watching a friend play through it. As the developers treated like a TV series in video game form, so too can the player and spectator.
To me, if anything, the game has deeply won me over with Lee and Clementine. Their story is one i won't soon forget and one… i helped shape <3 
-fonzcorp
—————————————
The Walking Dead: A Telltale Game Series
is available for PS3 (via Download from the PlayStation Network), the Xbox 360 (via Download from Xbox Live Arcade), and the PC.
After 25 or so hours, I finished and concluded my game with FarCry 3. It has actually been a while since i have enjoyed a good shooter all its way through. FC3 surprised me.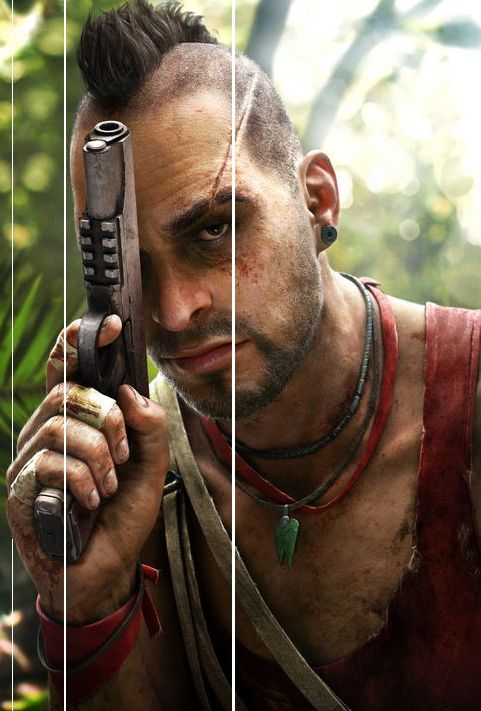 Even with character flaws and the minor aspects of the game that didn't really attract me. I was able to go through most of the gameplay and its story… And it was a fantastic voyage indeed!
There was a lot of doubt early in the story as it began with Jason Brody (the main character) being uninviting and very dull. It was his counter part protagonist Vaas (Pictured) who was too ecstatically chaotic to make me stop playing. Top notch voice acting coupled with erratic animation and dialogue made him perfect. His character was very believable. Bent, fucked up, believable.
As I progressed, the plot started doing what few games end up doing to the main character. Jason started changing. His beliefs and where his values lay, completely change. His struggle against Vaas is a reflection of this and his sanity. Sanity BECOMES the theme and i got hooked. From then, i had to finish the game.
Overall it was great, but i don't know if most know that this game is a Shooter mixed with Survival grafts that can keep you very busy in-game. The Island you play on is a huge open world that lets you explore and must survive in. I decided to hand down 5 quick tips to help your survival. Take them… as they can help your single player story progress…
Capture those airwaves! - The Island map is not revealed. And you would think it could be easy as just walking into a store and buying a map to help you get your bearings, but nope. You must look for Radio towers on the island, climb them, and turn them on for this. Each has its own little platforming challenge to get to the top. Radio towers will only reveal a portion of the map, but they are crucial so you can know where you are, know the roads, and know whats around you. Revealing parts of the map will reveal hunting game locations, town settlements, topography, and much more. As a bonus, liberating more and more towers will also unlock weapons at the gun shop for free! This will add much needed variety to your initial arsenal :D
The Hunt is on…- Jason Brody starts off with the capacity to carry only ONE gun, very little ammo, small munitions, and a limited number of items. This is a pain, as you will very fast need more of all of this. Crafting more weapon holsters and larger bags to hold more survival goodies is a must. To do this, you must hunt for animal skins. You can hunt anything from yummy helpless goats to dangerous rare jungle cats, so be prepared for what your are hunting. Ferociously asshole animals can kill your very quickly, even the ones that don't look difficult to take down. Cassowaries, these Ostrich looking birds, took me down to rapeville numerous times. If you take the time to pick up some Yellow Plant Leaves, you can craft a neat-o drug that heightens your sense of smell, and helps your gain an initiative against the wildlife around you.
Capture enemy outposts- The Island is a complete pirate shit state. Enemies are everywhere at first and if you want to do anything without these pirate posers tailing you or spotting you, you will have to minimize their numbers. Each enemy outpost you capture will remove enemy occupation from a given area, for the most part. Taking these strongholds is all in how you want to do so. Your handy camera can help you mark your opposing numbers. Remember, if you are detected by going gun-f*ck-nuts on these settlements, they can sound alarm for reinforcements and reinforcements will continue to come if you do not kill everyone. This can be poor foreplay on your ammo and thus, your moneys. My approach, of course, was stealth. Either way though, the best thing to do FIRST is to disable the alarms. A distraction is best for that because these moron pirates will go check out anything that explodes randomly (Good ol' C4 is good for this) or go stare at a brush fire for minutes on end (Molotov or Fire Arrows help with this.) This should give you time to go after the alarms and disable them. You could shoot the alarms from a far, but shooting an alarm will only disable that one specific alarm. Walking up and disabling an alarm will screw all the alarms up for one outpost. Much yummier tactic. Also, its worth noting that taking outposts undetected gives extra experience points and helps unlock a certain skill for the stealth-wise practitioner. Yet, an even easier way to knock out enemy outposts, if you're lucky, is to keep an eye out for any animal cages within. Shooting a cage's door that holds a bear or a jungle kitty will free the animal and let it run bloody-muck on the outpost. Quite amusing to watch from a safe distance. Kill and skin the animal once it has feasted on your enemies.
That pirate said that he wants you to "Take him down" lulz… - This can be arguable, but it worked wonders for my ammo, experience points, and save me a lot of aggravation. Learn the 'Take Down' skills! Aside from being wonderfully pleasing to watch, 'take downs' help a lot when pulled off. Each one of the three skill-trees in the game has at least one of these 'Take Down' skills that can help make killing enemies so much easier than dickin' around a gun fight with them. The stronger skills let you take down multiple enemies at once while other 'take downs' help with stealth superiority…But all of them are fun to execute, especially in first-person. Want to jump down and knife a pirate from above, take his pistol from his holster and cap two others next to him, 'Taken style'? If you can chain these take downs perfectly together…it is awesomely possible and doing so will reward you with extra experience points, save your ammo, and help you quickly finish missions or take an outpost. My favorite was the 'Grenade Take Down'. Its just pure Hollywood bliss; knifing an enemy, then pulling the pin on his own grenade right before kicking his body towards an enemy vehicle. In first-person shooter mode this is… Hollywood. Action. Bliss.
Paradise? Yeah bloody right. - This isn't a tip that really helps with survival, but im listing it anyway: Have fun! This game is well designed with a beautiful setting and so designed for you to explore and have fun with it. They don't call it an open-world game for no reason. Try out each mini game, from Poker to knife throwing competitions. Try and find every vehicle and ride the f*ck out of it. Buy different guns and use them. Do the most you can. Its a bummer that Farcry 3 released a bit too late for year-end video game rewards, but as long as it gets played…thats all that should count, really.
-Fonzcorp
Link reblogged from KEVIN & LEE with 3 notes

And so it begins… My year-long subscription with MoviePass has commenced and for the next 12 months I will be trying to see every major movie released in theaters that looks remotely interesting. All for 30 bucks a month. I was a little pissed when my card arrived and I was informed that you…